'Tis the season!
Let's say you want to share a seasonal gift or two with your friend, partner, family member, coworker… but that person lives in a, let's say, space-challenged apartment.
There is no need to fret, dear, generous celebrant.
Check out a dozen options to spread good cheer to a few lucky folks in your life. Sometimes, less truly can be more!
Multitasking kitchen appliances
A small kitchen requires petite appliances. A tiny footprint is key. TheKitchn recommends an immersion blender as a great multitasker to help with soups, salad dressings, smoothies…any recipe that requires a little blending. We think a dual-serving crock-pot is a nice tool, as well. Check out the Crock-Pot 16-ounce Little Dipper.

French press
For a coffee maker with a small footprint, consider an individual-serving French press model for preparing a fresh cup or two of their favorite roast blend. Small-batch goodness from a small appliance they can easily stow away after a caffeine break: perfect for the gourmet caf-fiend!

Coffee subscription

Another special gift for the coffee lover is a monthly subscription to a gourmet coffee line. Premier purveyors offer specials on recurring orders, including Gevalia, the Coffee Bean, and Caribou coffee brands, many with free shipping. Give the gift of flavor variety to your favorite apartment resident!

Exquisite shower products
Share an awesome aromatherapy shower experience. Your friends will love shower gels from LUSH Handmade Cosmetics. The Olive Branch is a particular highlight, an exotic mix of mandarin juice, vine leaves, and sea salt.
High-end headphones
Speaking of hi-fi, why not give the music lover in your life a gift both he and his neighbors will appreciate: a pair of high-end headphones. We're not talking about disposable earbuds, either. German audio brand Sennheiser makes what some call the finest headphones on the planet. Check out their new Momentum line retailing around $349. Another popular set of 'phones to consider is Beats by Dre, widely available at many nationwide electronics sellers and perfect for those who are fashion-conscious and love heavy bass.
Shower speakers
Apartment residents can stream music straight to their showers with water-resistant speakers, like the Ion SoundSplash. Connect to your favorite tunes over Wi-Fi, and play them safely using these affordable, water-safe devices.

Vertical, indoor garden
Apartment units often don't offer a lot of space for growth, but you can position plants on the wall when you install a hanging garden. These works of art are both decorative and healthy!

Modular shelving for storage space
Clever shelving which offers expandable storage, like pieces made by the ubiquitous furniture giant IKEA, are gifts that keep on, well, taking… taking on clutter and helping to organize it, that is. These items are typically sturdy, but won't distract from the decor placed on and alongside them.
Everyday apartment supplies
Green cleaners are the order of the day. Share Mrs. Meyer's sweet-smelling line of gentle cleansers with your favorite gift recipient this year. (You can even make your own homemade cleaners to gift on the special someone who you feel might need a little assistance in the apartment cleaning department!)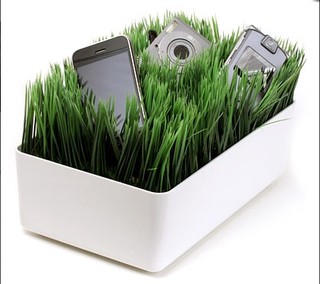 A multi-plug device charging station
Even a small apartment can be home to a panoply of the latest high-tech gadgets… and they all need feeding! Houzz.com showcases a number of charging spots that smartly connect devices to the juice they need. (We really like the looks of this Grassy Lawn Charging Station from ThinkGeek!)

Storage Ottomans
For easy organization that's hidden, yet easy to access, consider gifting your favorite small apartment dweller with a storage ottoman. These functional, attractive multi-taskers offer storage that's quite literally under-foot!
A night out!
How about a celebratory gift that takes up no space at all? Treat your best gift-expectant buddies to a special night out on the town. Here's a chance to have a blast with a gift that's extra meaningful for the time you'll spend together!
Photo credits: Shutterstock / Warren Goldswain, Mile Atanasov, l i g h t p o e t, Houzz.com
Comments
comments