Amenities
Pets
Pet Fees and Deposits Vary by Property. Please contact the appropriate leasing office with any questions. Assistance animals are always welcome without deposit or fee. Pet Types Allowed: Dogs, Cats, Fish, Caged Birds.
Floor Plans & Pricing
Studio 0x1 621-658 SF
1 Available
Traditional 1x1 703-859 SF
2 Available
Traditional 2x2 993-1015 SF
1 Available
12301
$1460+
1015 sqft
Aug 20
11204
$1435+
993 sqft
Aug 29
13304
$1460+
1015 sqft
Sep 13
18210
$1435+
993 sqft
Sep 26
Traditional 2x2 1042-1323 SF
2 Available
3308
$1375+
1139 sqft
Sep 26
5115
$1335+
1128 sqft
Sep 29
8207
$1485+
1235 sqft
Oct 20
Traditional 3x2 1374-1398 SF
Sep 04
20012
$2065+
1374 sqft
Sep 04
Traditional 1x1 672-689 SF
Sep 11
16207
$1055+
672 sqft
Sep 18
15306
$1055+
672 sqft
Sep 20
Studio 0x1 531-616 SF
Contact
Townhome 2x2.5 1671 SF
Contact
Traditional 3x3 1307-1459 SF
Contact
Townhome 3x3.5 2066-2107 SF
Contact
Prices, specials, features and availability subject to change.
Property Details
35.8084,-78.7277
5443 Wade Park Blvd., Raleigh, NC 27607
Post Parkside at Wade
Post Parkside at Wade
"Find convenience and luxury at Post Parkside at Wade. Located right on the edge of the Beltline in-between Raleigh and Cary, you'll love the proximity to the city's hotspots like downtown, PNC Arena and Umstead State Park. But we also offer on-site retail and restaurants if you don't want to get in the car.

Come and enjoy our swimming pool, two urban vegetable gardens and two dedicated dog walk areas and wash station. Yep, we're pet-friendly. We're also proud to be a nationally recognized as a Green Building Standard property that offers a recycling center, electric car charging stations and NEST thermostats to help save energy. Choose from several unique floor plans where you'll find luxury finishes like granite countertops. And be sure to ask about our apartments that also offer covered parking and garages. In addition, Post Parkside at Wade is pleased to offer select apartments available for corporate rental, as well as furnished apartments as short term rentals. "
Lease Terms
Unavailable for this apartment
Ratings & Reviews
69 Reviews for Post Parkside at Wade
I currently live here. My air conditioning has been broken since the inception of my lease which began in March (currently September). Management doesn't care. They've sent maintenance to come fix it but it's never gotten fixed. They haven't done anything to remedy it. They told me I could break the lease early - how generous right? I don't want to move/apartment search/sign another year long lease. I just want to live in an apartment that's not 80 degrees. They gave me a portable AC that was supposed to fix it. It's extremely loud and they didn't install it correctly - the temperature spiked along with my utilities bill. My stay here has been a nightmare.

Make sure you note if the carpet is not brand new on your move in sheet! If you don't, they will charge you $200 at move out because they replace the entire carpet since they don't do partial replacements (kinda crazy considering that carpet is plain light beige....). I know we had tenants living prior on our carpet, yet we had to take the blow for it. It was obvious as there were indents in the carpet at our move in that we weren't the first to live on it. Hate to start rumors but I would like to think that the carpet gets changed out routinely (given its plain beige) and when possible- its at a tenants expense. Had I known we'd be charged an entire replacement I absolutely would have noted that- so I hope that tip helps someone!
A big reason for my 1 star is due to a poorly handled situation by management. My unit was WITHOUT power for 4 days before management did something about it!!! I complained multiple times(4+) followed by 2 additional requests asking them to compensate me for the inconvenience. Our power was also surging- actually was scary and my roommate and I could not stay there given the odd noises and lack of understanding of what was happening. Maintenance did their best to help when they got in there, but it took a few tries. It's one thing for them to not agree to compensation- but it's another to actually just be ignored by management all together. Their management seems nice so I was disappointed for their lack of acknowledgment in our situation. Hence why I'm taking the time to write a review!
Oh and that gate rarely works :( I will however still give a star because they do a fantastic job with landscaping!

It has been a pleasure living at Post Parkside at Wade. The view of the square from my apartment is always nice, and for the most part, it is pleasantly quiet in my apartment and around the property. The people I meet are always friendly and courteous, and I enjoy watching the pets playing outside.

If you're looking for a perfect place to live, Post Parkside at Wade is your place.

Post Parkside at Wade is a wonderful complex. I've been living here for about 7 months now and am very pleased. It's a quiet, gated community with plenty of amenities and lots of events. The neighbors and management staff are very friendly and I've never had a problem with any of the community there. Also, for the prices around Raleigh, they are definitely one of the most affordable. I would say the only negative about Post is that there isn't wiggle room on price and if you like city life, they aren't located in a very social location - but they are right next to the PNC Arena which can be convenient. I would absolutely recommend this location to a friend!

Helpful Information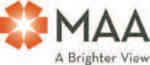 MAA is a real estate investment trust (REIT) that focuses on the acquisition, selective development, redevelopment and management of multifamily homes throughout the Southeastern and Southwestern regions of the United States.

Our mission at MAA is to deliver superior service and value for our residents, employees and shareholders. We refer to this as creating "A Brighter View" and we are doing it every day.

In fact, we proudly display "Our Brighter View" plaques at every MAA office just to serve as a daily reminder of our focused mission. MAA is committed to remaining true to our rich tradition of service to each other, to our residents, and to our shareholders. We respect the privilege to providing value to those whose lives we touch.

As of December 1, 2016, MAA owned or had ownership interest in 101,207 operating apartment homes in 305 communities in 17 states and the District of Columbia. Headquartered in Memphis, Tennessee, MAA is traded on the New York Stock Exchange under the symbol MAA and is included in the S&P 500.


Check Availability
(919) 238-3847
People who viewed this apartment also viewed