Amenities
Community Features
High Speed Internet Access
Pets
Pet Fees and Deposits Vary by Property. Please contact the appropriate leasing office with any questions. Assistance animals are always welcome without deposit or fee. Pet Types Allowed: Dogs, Cats, Fish, Caged Birds.
Floor Plans & Pricing
Traditional 1x1 591-713 SF
4 Available
Traditional 1x1 697-920 SF
2 Available
Traditional 2x1 958-990 SF
1 Available
Traditional 2x2 1105-1311 SF
1 Available
1125
$1560+
1191 sqft
Oct 20
Traditional 2x2 1214-1488 SF
4 Available
1119
$1580+
1281 sqft
Oct 18
Traditional 3x2 1407-1458 SF
Nov 07
1027
$2020+
1458 sqft
Nov 07
Traditional 2x2 1241 SF
Dec 22
1550
$1625+
1241 sqft
Dec 22
Traditional 1x1 526-1002 SF
Contact
Traditional 1x1 874 SF
Contact
Traditional 1x1 925-958 SF
Contact
Traditional 2x2 1290 SF
Contact
Prices, specials, features and availability subject to change.
Property Details
33.8706,-84.4795
3375 Spring Hill Pkwy, SE, Smyrna, GA 30080
Post Spring
Post Spring
"Experience luxury living at Post Spring Apartments in historic Vining in Atlanta. You'll find you're conveniently located near Smyrna Market Village, as well as Cumberland Mall for all your shopping needs. And enjoy your close proximity to the Cobb Energy Performing Arts Centre where many concerts, operas, ballets and more take place. Since you're right by I-285, you can also take a short drive to Buckhead, Midtown or Downtown Atlanta to explore all the great neighborhoods in the city.

Our apartment community also offers many high-end amenities such as controlled access entry gates, a complimentary electric car charging station, swimming pool, tennis courts and an urban vegetable garden. Once inside your new apartment, kick back and relax in your new sunroom or balcony that many of our apartments offer. In addition, several of our apartments also include a fireplace and hardwood floors, among other luxury features."
Lease Terms
6-Month, 9-Month, 12-Month
Ratings & Reviews
60 Reviews for Post Spring
I've lived in 4 Post Properties across the city of Atlanta in the past ten years and this has to be, by far, the worst property I've ever been exposed to. Moved in to an apartment that had bed bugs, then I had to pay for the extermination after their contracted Bed Bug Service missed finding them with both a K-9 unit and a visual inspection.

Secondly, car break-ins repeatedly happen. The courtesy officers have switched jobs at least twice and these things keep happening. Also, residents allow their children to physically hang off your car mirrors as the play unsafely out in the parking lots...

Thirdly, Post Spring will send you threatening emails about rent not being paid (even after you paid it, and called them to make sure) repeatedly. Now I understand one email to those who haven't paid, but for those of us that have, it is quite aggravating.

Lastly, many residents smoke in the breezeways which will undoubtedly seep into your apartment.

Don't live here - it is 100% not worth the money or your sanity.

Please accept our sincerest apologies for the negative experiences with upkeep and safety you describe. Its our goal to deliver the highest-quality services and facilities, but your comments suggest we may have fallen short of our expectations, and we're committed to addressing these issues immediately. If we have failed to make it clear how much we value you as a resident, know your words are not lost on us. We'd like to obtain more details to help us improve, so please call 866-620-1130.

04-115-2018
TERRIBLE APARTMENT COMPLEX
My neighbor had all four tires stolen from her vehicle.. My car was parked directly beside of hers..
My roommate had to file a police report because she woke up one morning with a BULLET HOLE on the side of her vehicle
Centipedes are constantly crawling all over the apartment no matter how much clean, vacuum or clorox - they will not go away.
The trash ben is ALWAYS broken or over filled and the security gates are often broken or left open..
I moved out 2 months before my roommate where we then terminated our lease 5 months early. NOT WORTH IT!

The management in the apartment does not communicate well. Upon moving out they tried charging me a "Pet Deodorizing Fee" even though my fully potty trained dog had died after a month after I moved in to the apartment. Somewhere along the lines there was a communication issue ( I thought that the $30 was for the pet fee and that it was waived) and they sent $30.00 to a collection agency which will now be on my credit report 7 years. Not one time did I receive a phone call I only received two very unclear messages about the remaining balance. SAVE YOURSELF. GO SOMEWHERE ELSE!
Wish I still had the photo of the car without all four tires parked next to mine...

Thank you for your review. Even though you have moved, we truly appreciate your feedback for our community. I assure you that the safety and comfort of our residents is our top priority and we pride ourselves on offering an exceptional apartment home to our residents. We are sorry to hear that your experience did not reflect these efforts and we will use this information to improve. If there are remaining concerns, please call us at 866-620-1130.We wish you the best in your new home.

03-74-2018
Moved in 4 months ago and got bed bugs. Also, residents smoke in the breezeway (MJ and cigarettes).

We appreciate your candid review. We regret you're disappointed and would like to resolve your concerns about pest control and community cleanliness. Please stop by the leasing office or call us at 866-620-1130 at your earliest convenience so we can try and resolve these concerns.

02-43-2018
Happy
Happy
Happy
Happy
Happy
Happy
Happy
Happy
Happy
Happy
E

A place where you can get peace of mind if you are ready accept disturbing the sound from neighbors as the apartment is not sound proof.

Helpful Information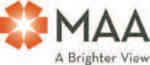 MAA is a real estate investment trust (REIT) that focuses on the acquisition, selective development, redevelopment and management of multifamily homes throughout the Southeastern and Southwestern regions of the United States.

Our mission at MAA is to deliver superior service and value for our residents, employees and shareholders. We refer to this as creating "A Brighter View" and we are doing it every day.

In fact, we proudly display "Our Brighter View" plaques at every MAA office just to serve as a daily reminder of our focused mission. MAA is committed to remaining true to our rich tradition of service to each other, to our residents, and to our shareholders. We respect the privilege to providing value to those whose lives we touch.

As of December 1, 2016, MAA owned or had ownership interest in 101,207 operating apartment homes in 305 communities in 17 states and the District of Columbia. Headquartered in Memphis, Tennessee, MAA is traded on the New York Stock Exchange under the symbol MAA and is included in the S&P 500.


Check Availability
(770) 225-6005
People who viewed this apartment also viewed