Amenities
Additional Features
On-Site Market/Convenience Store
Pets
Pet Fees and Deposits Vary by Property. Please contact the appropriate leasing office with any questions. Assistance animals are always welcome without deposit or fee. Pet Types Allowed: Dogs, Cats, Fish, Caged Birds.
Floor Plans & Pricing
Traditional 1x1 849 SF
2 Available
7274BQ
$1375+
849 sqft
Today
7270BQ
$1385+
849 sqft
Today
3429MS
$1375+
849 sqft
Nov 22
7264BQ
$1345+
849 sqft
Dec 28
7522TN
$1485+
849 sqft
Jan 14
Traditional 1x1 752-1109 SF
1 Available
7249GK
$1435+
856 sqft
Today
7066TS
$1350+
866 sqft
Nov 23
7426Q
$1460+
973 sqft
Dec 03
3635TM
$1400+
973 sqft
Dec 04
3527TB
$1425+
1109 sqft
Dec 15
Traditional 1x1 861 SF
1 Available
7532TN
$1670+
861 sqft
Today
Traditional 2x2 1134-1477 SF
4 Available
7306HM
$1510+
1134 sqft
Today
3433SK
$1545+
1134 sqft
Today
7150TS
$1575+
1289 sqft
Today
7142TS
$1705+
1319 sqft
Today
3422SK
$1515+
1134 sqft
Nov 26
Traditional 2x2 1220-1328 SF
4 Available
3317DK
$1610+
1328 sqft
Today
7403BV
$1675+
1328 sqft
Today
3209DK
$1685+
1220 sqft
Today
3409SK
$1800+
1328 sqft
Today
3601TM
$1605+
1220 sqft
Nov 24
Townhome 2x2.5 1397-1494 SF
1 Available
7260BQ
$1890+
1397 sqft
Today
7151TS
$1980+
1494 sqft
Feb 08
Traditional 3x2 1363-1470 SF
1 Available
3410SK
$2015+
1470 sqft
Today
Traditional 3x2 1423 SF
Nov 20
3428MS
$2010+
1423 sqft
Nov 20
3513HK
$2060+
1423 sqft
Jan 22
Traditional 1x1 545-550 SF
Nov 27
7144BV
$1120+
545 sqft
Nov 27
3532TB
$1205+
550 sqft
Jan 18
Traditional 2x2 1158 SF
Dec 03
3406MS
$1480+
1158 sqft
Dec 03
3484MS
$1730+
1158 sqft
Dec 19
3466MS
$1730+
1158 sqft
Dec 31
3532HK
$1470+
1158 sqft
Jan 12
3542MS
$1730+
1158 sqft
Jan 25
Traditional 2x2 1079-1149 SF
Dec 10
3564MS
$1620+
1079 sqft
Dec 10
3522MS
$1585+
1079 sqft
Jan 15
3464MS
$1490+
1079 sqft
Jan 23
3536MS
$1595+
1149 sqft
Jan 24
Traditional 3x2.5 1552-1750 SF
Dec 25
7255GK
$2155+
1552 sqft
Dec 25
Traditional 2x2 1166 SF
Dec 31
3468MS
$1800+
1166 sqft
Dec 31
Traditional 1x1 768 SF
Contact
Traditional 1x1 833-1016 SF
Contact
Traditional 2x1 962 SF
Contact
Prices, specials, features and availability subject to change.
Property Details
27.9695,-82.5659
3101 N Rocky Point Dr E, Tampa, FL 33607
Post Rocky Point
Post Rocky Point
"At the Post Rocky Point luxury apartments in West Tampa, you'll love living so close to Tampa Bay. Take advantage of the waterfront trail that you can walk or run on and know that you're also close to downtown, West Shore Plaza and the International Mall.

On the property, you'll find resort-like amenities available to you everyday! With views of both the Bay and the Harbor, you can also take advantage of the three pools, tennis court, basketball court or the sand volleyball courts on the grounds. The community also offers a spa with a sauna, a putting green, a fitness center and more. An urban vegetable garden and an outdoor grill areas is also available for all.

Inside our apartments and townhomes, you'll find pet-friendly living with luxury features. Choose a unit with a sunroom, a wood-burning fireplace and a private garage. In addition, Post Rocky Point is pleased to offer select apartments available for corporate rental, as well as furnished apartments as short term rentals."
Lease Terms
Lease terms are variable. Please inquire with property staff.
Ratings & Reviews
82 Reviews for Post Rocky Point
Proceed with caution...leasing agent's do not know their own policies. They do not own up to their own mistakes, which is now costing me over $800. I would not recommend anyone living in this neighborhood.

I lived in Post Rocky Point for one year and loved it. Great area and location. Lots of good amenities. Very safe.

Thank you for taking the time to share your complimentary review about Post Rocky Point. We strive to provide our residents an exceptional place to call home with great amenities and a convenient location. We appreciate your encouragement!

02-57-2018
THIS PLACE IS TERRIBLE, literally run away as fast as you can. I am a current resident. My sister and brother in law have lived here for years however they moved out about a year ago because the new management is absolutely awful. Here is a list of stuff that residents have had to deal with within the last 6 months:
- Back porches not getting screened back in
- Painters that repainted the buildings leaving nails on the ground (going into residents tires) and paint somehow getting all over our cars.
- Stolen packages from our front door (I've had 3 stolen)
- Broken in apartments and cars
- Front gates haven't worked in over 2 months as well as the trash compacters being broken for several weeks.

***Last but not least***: We just had a SHOOTING on our property, 1/15/2018 which involved several helicopters and a police chase. The Management has yet to acknowledge this and are trying to keep it out of the public eye. (luckily we have a resident FB to keep us all in the loop). I can not wait until my lease is up before even more things happen. If all this is worth living on the Courtney Campbell, then go for it, otherwise be smart and live somewhere else.

Thank you for providing such a detailed account of your concerns. We regret that your recent living experience has been unsatisfactory. Our team is disturbed by this alarming report, and we plan to look into this matter immediately. Know that your comfort and safety is our top priority, and we will work tirelessly to resolve this matter in a timely manner. Please contact us with any additional concerns at 866-620-1130.

02-43-2018
Don't move here. Over price for what you're getting. 2 bedroom is so small for the amount I pay. I got my car ticketed and towed in the gated community for parking next to my apartment. There is NO parking spaces. I had to carry my groceries and a child from the front gate to the back of the complex because they dont have parking for residents. I complained numerous times about designated parking for residents and visitors but nothing is done. I even have a video of how packed it was and my distance I have to walk with my items and child. I had to call cops 3 times within a month because of disturbance. They never fix the dumpster that is in front of the community so it smells so bad and it's overfilled so trash is all over the place. It looks trashy and ghetto. The gates are always broken. Dont move here. Not worth it. For amount you will be paying, it's not worth it if you can't even park next to your home.

We appreciate your thorough feedback. We regret that your living experience hasn't lived up to our high standards of value, comfort and convenience. We, certainly, want you and your child to enjoy a clean, safe and welcoming environment, and your concerns are not lost on us. Please come by the leasing office or call us at 866-620-1130 so we can address these concerns as soon as possible.

12-353-2017
The appartment is nice enough, it's definitely not the nicest, but the rates are unbelievably high. Most appartments that are this nice would run for 2/3 the price.

Schools
Dickenson Elementary School
4720 Kelly Rd, Tampa, FL 33615
Webb Middle School
6035 Hanley Rd, Tampa, FL 33634
Jefferson High School
4401 W Cypress St, Tampa, FL 33607
Ethline R Williams Prep School
4411 Kelly Rd, Tampa, FL 33615
Center For Education School Of The Arts
4408 George Rd, Tampa, FL 33634
Private
Special Education
1-12
Richardson Montessori Academy
9390 N. Florida Avenue, Tampa, FL 33604
Brooks Debartolo Collegiate High School
10948 N Central Ave, Tampa, FL 33612
All content about schools and school districts is provided by GreatSchools, a third party. Apartment Guide does not create, develop, contribute to, or endorse this content.
Helpful Information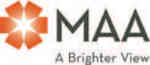 MAA is a real estate investment trust (REIT) that focuses on the acquisition, selective development, redevelopment and management of multifamily homes throughout the Southeastern and Southwestern regions of the United States.

Our mission at MAA is to deliver superior service and value for our residents, employees and shareholders. We refer to this as creating "A Brighter View" and we are doing it every day.

In fact, we proudly display "Our Brighter View" plaques at every MAA office just to serve as a daily reminder of our focused mission. MAA is committed to remaining true to our rich tradition of service to each other, to our residents, and to our shareholders. We respect the privilege to providing value to those whose lives we touch.

As of December 1, 2016, MAA owned or had ownership interest in 101,207 operating apartment homes in 305 communities in 17 states and the District of Columbia. Headquartered in Memphis, Tennessee, MAA is traded on the New York Stock Exchange under the symbol MAA and is included in the S&P 500.


Check Availability
(813) 440-4641
People who viewed this apartment also viewed